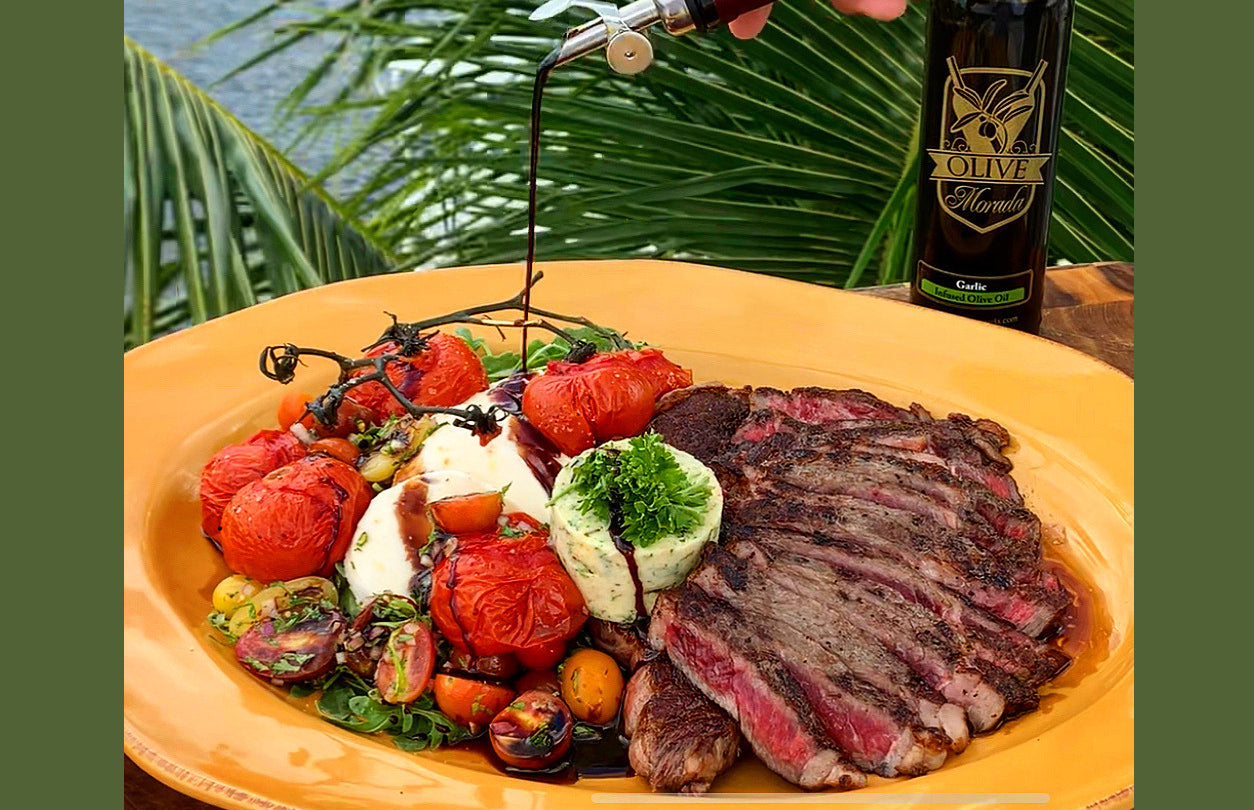 Steak Tagliata with Roasted Tomato/Buffalo Mozzarella & Arugula Salad
Roasted Tomato, Buffalo Mozzarella and Arugula Salad
6-8 Campari Tomatoes on the Vine
12 Heirloom Cherry Tomatoes, split in half
1 ball of Buffalo Mozzarella, sliced
2 cups Baby Arugula
4 sliced Basil leaves
Olive Morada Tuscan Herb Olive Oil
1 Pinch ground Black Pepper
Kosher Salt to Taste
Heat oven to 350 F; gently marinate Campari Tomatoes with Salt, Pepper, and Tuscan Herb Olive Oil then bake for 22 minutes until Softened and Lightly Shriveled. Cool and Reserve
In a mixing bowl, toss Arugula, Basil and Heirloom Cherry Tomatoes with Salt, Pepper and Tuscan Herb Oil to taste, then place offset on a platter.
Place sliced Mozzarella over salad and then place roasted Tomatoes on top.
Steak Tagliata
2 x 14 oz. Ribeye
1 Tbsp Salt Sisters Steakhouse Rub
2 Tbsp Olive Morada Garlic Oil
2 Tbsp  Olive Morada Extra Virgin Olive Oil 
Season Ribeye steak with Salt Sisters Steakhouse rub
Drizzle Ribeyes with Garlic EVOO, set aside
Heat a cast iron skillet over high heat then add Olive Morada Extra Virgin Olive Oil ; cook steaks to desired temperature. Sear steaks 4 minutes on one side then 2 on the other side for medium.
Rest Steak for 90 seconds.
Slice neatly and transfer to large platter next to Roast Tomato Salad.
Salt Sisters Steakhouse Maitre d'Hotel Butter
1/4 lbs of good quality Unsalted Butter, softened
1 Tbsp + 1 Tsp Salt Sisters Steakhouse Rub
1 large pinch chopped Parsley
2 cloves garlic, minced
In a small bowl, combine the Butter, Steakhouse Seasoning, Parsley and Garlic by vigorously stirring.
If desired, shape by placing in small glass and cool in refrigerator until set. Unmold by placing glass in hot water bath for 30 seconds and the turning over onto plate.
Serve with Steak on platter between salad and meat.
To finish before eating...
Once all components of the meal are placed on the platter, drizzle the Roast Tomato Salad and Steak "Tagliata" generously with Olive Morada Denissimo. It's the element that ties it all together; be generous!