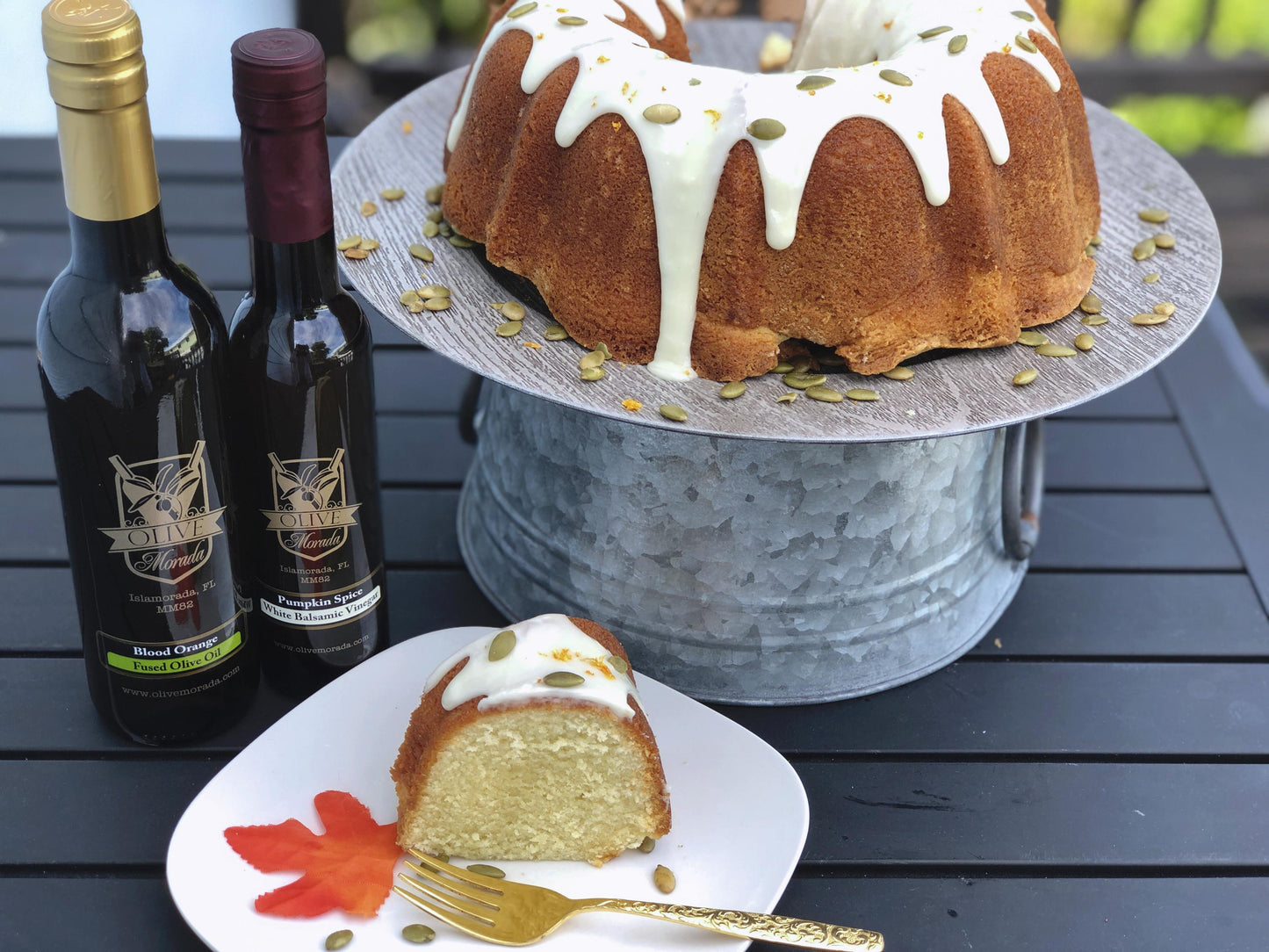 Blood Orange Olive Oil Pound Cake
Blood Orange Olive Oil Pound Cake
Ingredients
1 cup and 2 tbsp of Olive Morada Blood Orange Olive Oil
3 cups granulated sugar
6 large eggs
3 cups of cake flour sifted
1 tsp salt
1/4 tsp baking soda
1 cup sour cream room temperature
2 tbsp pure vanilla extract
pumpkin seeds (for decoration)
Instructions
1.Start by preheating your oven to 325 F then liberally spray a 12 cup bundt pan with non-stick baking spray.
In your stand mixer bowl, add butter and sugar and mix for 3-4 minutes on high speed until very pale yellow and fluffy.
Next add eggs, one at a time, combining well after each addition and scraping down the sides of your bowl as needed.
Turn your mixer down to its lowest speed, and slowly add flour into batter in two increments then add salt and baking soda. Be careful not to overbeat.
Lastly add in sour cream and vanilla extract, scrape down sides and mix until just combined and turn off mixer.
Pour cake batter into prepared bundt pan, and bake for 1 hour and 15-25 minutes or until a toothpick inserted in the center of the cake comes out clean.
Cool in pan on a wire rack for 10 minutes then invert cake on serving plate for at least an hour or until the cake is cool to touch.
Glaze:
INGREDIENTS
1 1/2 cups confectioners' sugar, sifted to remove any lumps
3 to 4 tablespoons milk or water
2 teaspoons vanilla extract (optional)
2 teaspoons of Olive Morada's Pumpkin Spice Balsamic
Once cake is cool- mix your ingredients for glaze. Line a mug or short glass with a zip lock bag, pour icing into bag, cut tip of bag and pipe icing all around the top of the cake, to help icing drizzle tap the cake plate gently on counter. Once you have desired drizzle sprinkle cake with pumpkin seeds (optional) for decoration. Enjoy!